Mrs Tyler's Nine Edges Challenge
Mrs Tyler's Nine Edges Challenge
14 June 2021 (by admin)
Mrs Tyler completes the Nine Edges Challenge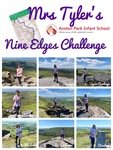 *** SHE DID IT ***
Mrs Tyler would like to pass on a huge THANK YOU to all of you who donated to the Nine Edges Challenge which she successfully completed on Saturday to raise money for the children of Anston Park Infant School.
"I walked for 24.5 miles in a time of 8 hours 50 minutes of walking and 11 hours in total, including breaks for lunch and drinks. It was a tough challenge but a huge achievement for me personally. I am aching a little and have a few blisters but other than that ok."

The total raised so far is £1,000 but there is still time to donate if you haven't done so already. You can donate by clicking on the link below:
Please see the photo attached with Mrs Tyler at every stage of her challenge. We are all proud of her commitment to our school.